Picking up where my last blog left off in the town of Enns…we left the next morning to this sign: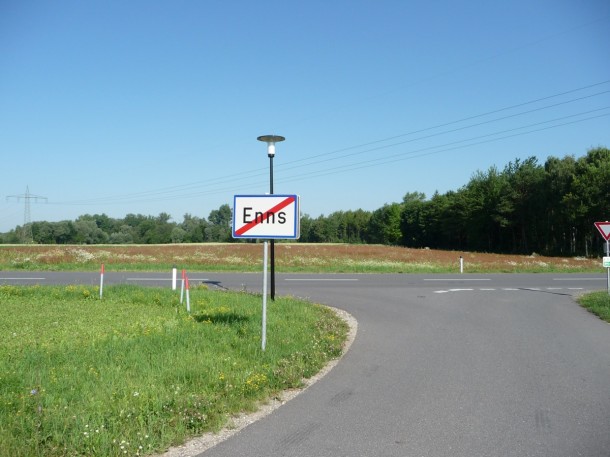 I love seeing signs in other countries. I think they really reveal something about the way of thinking of a culture. Or maybe the sign designs are just the result of a peer-reviewed study commissioned by a technical committee. Either way, I still like this sign for the simplicity of the red diagonal line.
Our biking distance on this day was 85 km, our longest day, mostly because we decided to backtrack a few miles to visit Mauthausen. Even now, more than two months away from seeing this place, I'm not sure how to express how visiting this concentration camp made me feel. It was a terrible place, and I am still trying to figure out how such a place could ever even come to exist. Oppression, slavery, human trafficking, call it what you will, but the evidence from this camp is incontrovertible that these things are wrong. I don't have a reasoned philosophical argument behind this; just an experience that left me with a feeling I know to be true.
I couldn't take very many photos there, but I did get this one, of the memorial to Italian political prisoners who did not survive their time at this camp: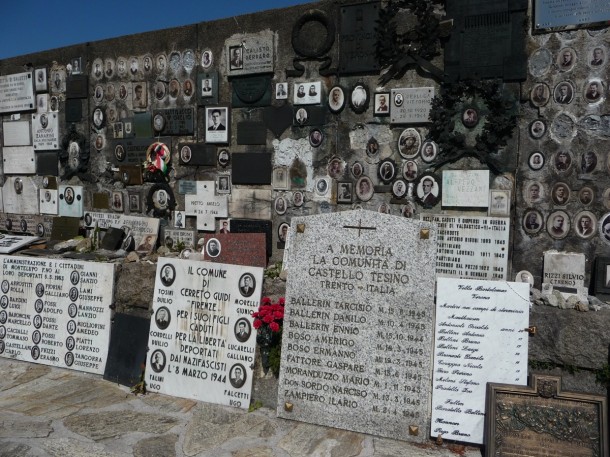 Many different nationalities had memorials at this camp, but only the Italians had somehow come up with portraits of almost every one of their victims. I've been to some old-school Italian restaurants where the walls are covered with portraits also…must be a cultural values thing.
Anyway, on to happier topics, like more road signs, this one proving that we were awesome bikers for dragging ourselves up a 14% grade: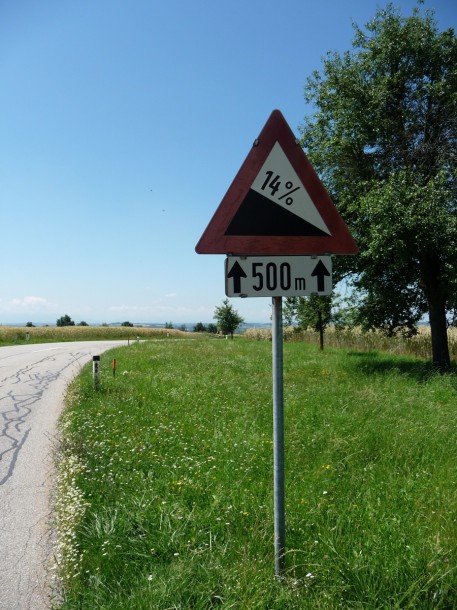 Later in the day we were detoured off the river for many miles due a washout on the path, and we came across some huge levy/floodwall construction, including this gate separating a small town from the destruction that the spring Danube can bring: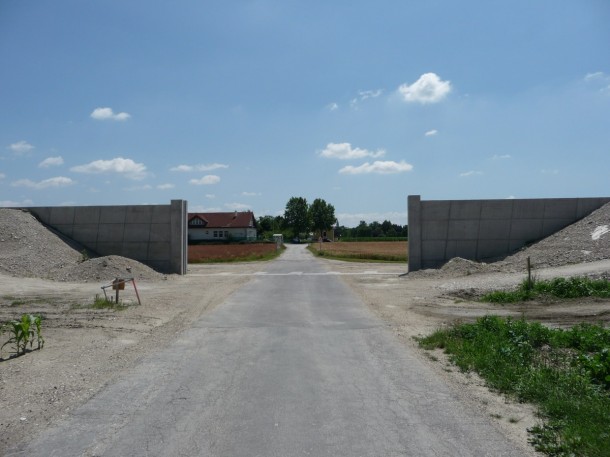 Just before we reached our destination, a riverfront hotel in Marbach an der Donau, we passed through more of the seemingly endless farmland in Austria. It was a welcome sight to see so much rejuvenation and life.