Even though it sounds like bragging (and it may well be, although before you envision me living in a mansion on a hilltop, let me clarify that the cottage is, at most, 400 square feet, and one room is practically uninhabitable because it has carpet on the walls!), I have to talk about how amazing it is to live somewhere with a view! So amazing, in fact, that I'm going to attempt to spot something new each day.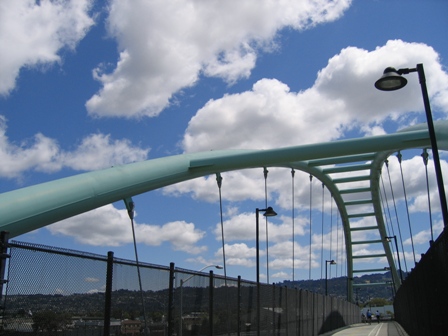 Today's spot is the University Avenue Ped/Bike Bridge over I-80. As an engineer, I love this bridge for its look and the fact that it clear-spans both directions of the freeway. As a cyclist, I love this bridge for the access it provides to one of the best segments of the Bay Trail between Berkeley and Emeryville. The bridge cost approximately $6M, which explains why there aren't other bridges quite this iconic elsewhere in the East Bay. In fact, I've heard that it was mostly funded by the city of Berkeley, which makes sense given the city's unique combination of wealth and green leanings. Other pedestrian bridges in the corridor (and there are at least a few) provide similar functions but at half the cost, or less, and their appearances are, well, more pedestrian.
The bridge opened in 2002, and the great thing about building a bridge in Berkeley is that you just know somebody is going to take everything they own across the bridge on opening day just because they can.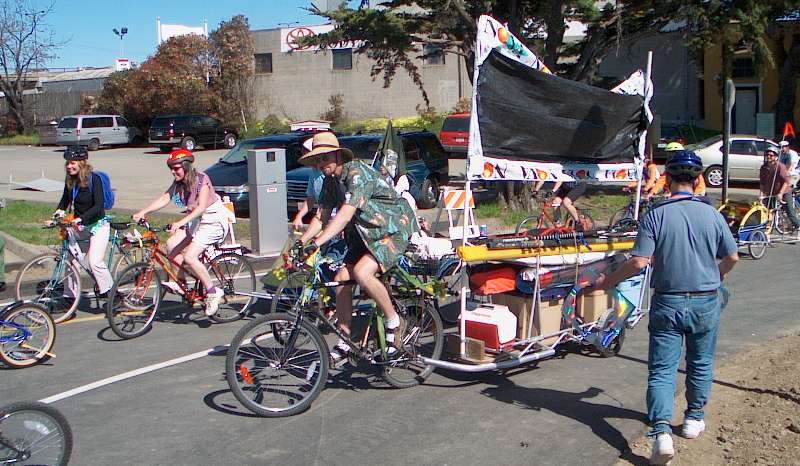 Good thing I didn't live here in 2002, otherwise that would have been me in the picture. And I would have been towing a piano.