For Thanksgiving this year we traveled to Southern California to be with family. But instead of doing the 1-hour flight (with the requisite 2-hrs early to the airport, naked-body-scanning/junk-touching rigamarole), or the 7-hour drive on I-5 (passing in the slow lane, slowing in the fast lane, miles and miles of driving boredom), we decided to take the train. Or, more accurately, I convinced my unwitting and innocent spouse to join me on what promised to be a relaxing, adventurous trip down the coast without the stress of driving or flying. Of course, the first thing we had to do on the day of departure was to leave the house by 5:45 am. Because, you know, it's important to be on time so that you don't miss your train.
The first train we caught was the Capitol Corridor out of the relatively new Oakland Coliseum station. This train was awesome, running pretty much exactly on time, and picked us up at 7:35 am for the 40 mile trip down to San Jose Diridon Station.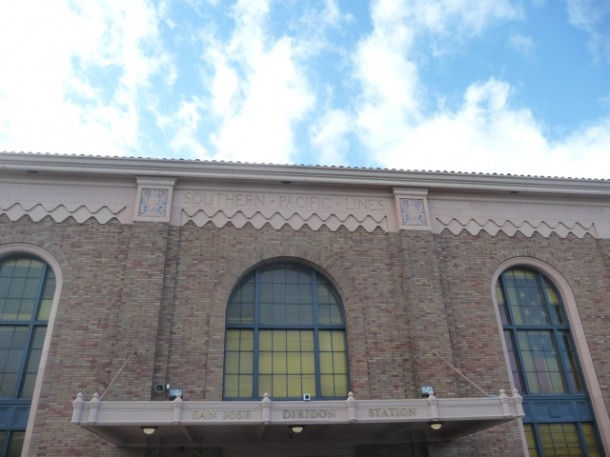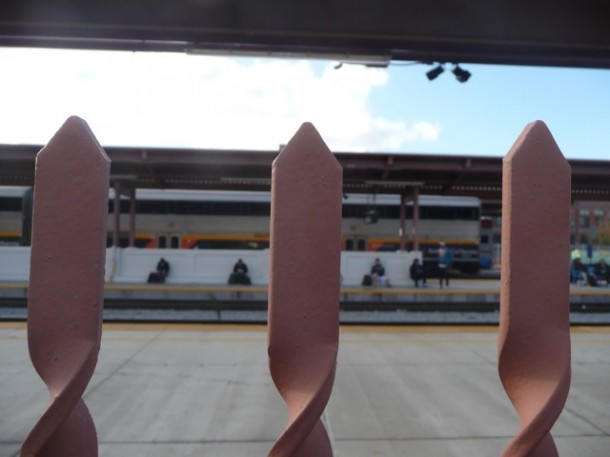 Our next train, the Amtrak Coast Starlight, was scheduled to arrive in San Jose around 10 am for a 5-hour trip down to San Luis Obispo. The previous two days, the train had been within 5 minutes of being on time. This day, however, it was anything but. A huge storm had just hit the northwest when our train was departing Seattle, and this storm, along with mechanical difficulties, made it such that our train was now scheduled to get to San Jose at 2:30 pm. A mere 4.5 hours late.
We had the option of taking a bus to SLO, but we elected to wait it out for a chance at the authentic train trip. We passed most of that wait time at Santana Row, and returned around 1:45. At 3 (the new arrival time), we and a couple dozen others went out toward the track to continue waiting. I checked the train status on my phone, and the arrival time had jumped from 3:08 pm to 4:01 pm. Weeping and gnashing of teeth commenced on all sides. Eventually, such stoicism prevailed that nobody minded when 4:01 pm came and went without a train. Finally, at 4:30, our train arrived and we, somehow, were very glad to see it, even though this meant no seeing the famous horseshoe bend (or much at all) in the daylight, no relaxing afternoon in SLO and Morro Bay, and, if the train got much later, not much rest that night for our 6:45 am train the next morning out of SLO.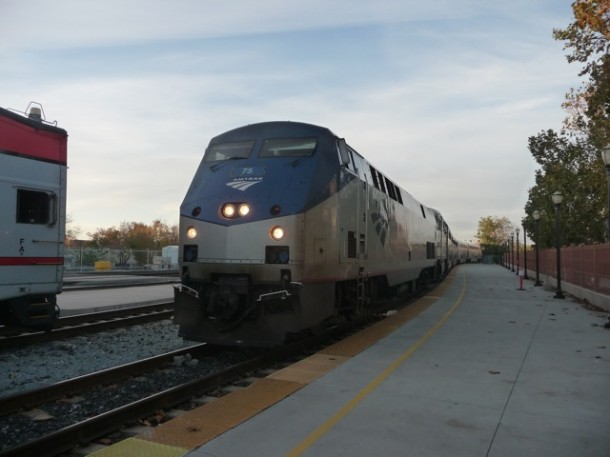 Also, it meant that the heroic 6-hour battery life of the laptop had not been enough to last for the duration, and a recharge operation was necessary: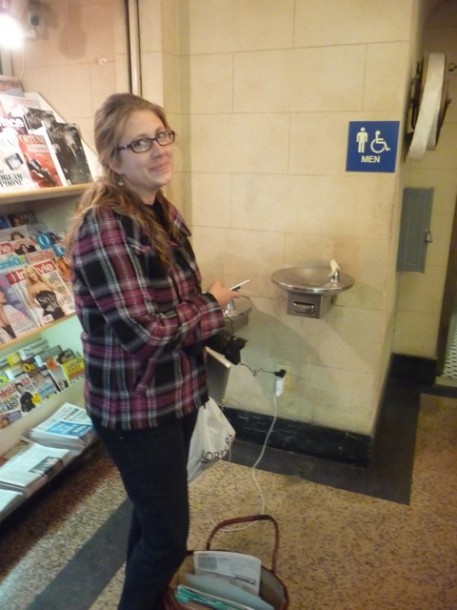 After an uneventful, even fast trip through Salinas and Paso Robles, we had made up about 30 minutes of time and by 9 pm we were coming down the hill into SLO when the train suddenly came to a stop. The conductor announced to us that, unfortunately, they had reached 12 hours of work and would have to hold the train until another crew could be sent up from the SLO station. Unbelievably, this process took about an hour. So just after 10 pm, our exhausted selves got off the train and grabbed a taxi to our hotel for a few hours of sleep before heading back to the station early the next morning.
Happily, the 6:45 am Pacific Surfliner out of SLO was right on time, and the weather was outstanding. We spent the next 3 hours on tracks hugging the coastline, watching farmland, birds, seals, porpoises, waves, and general awesomeness pass by outside the window: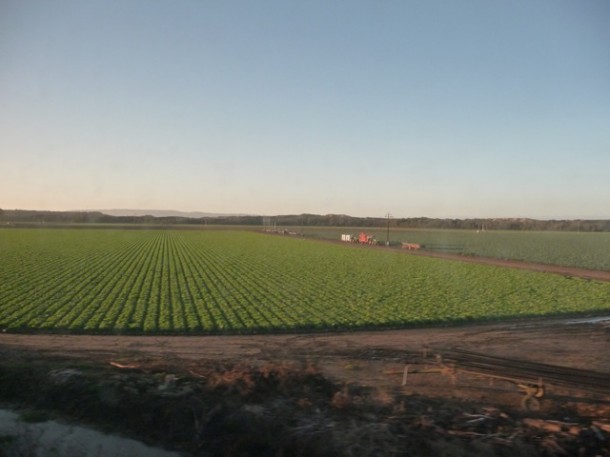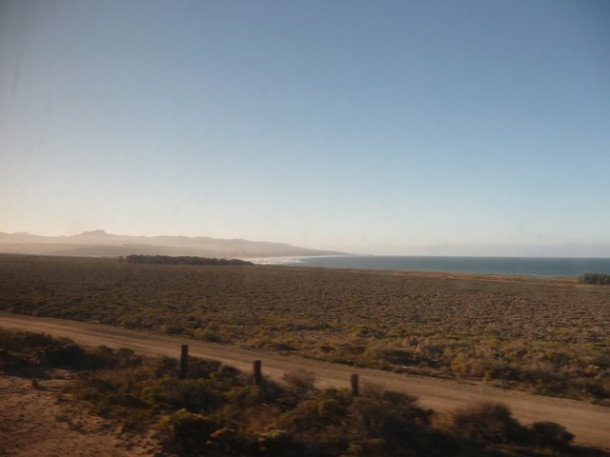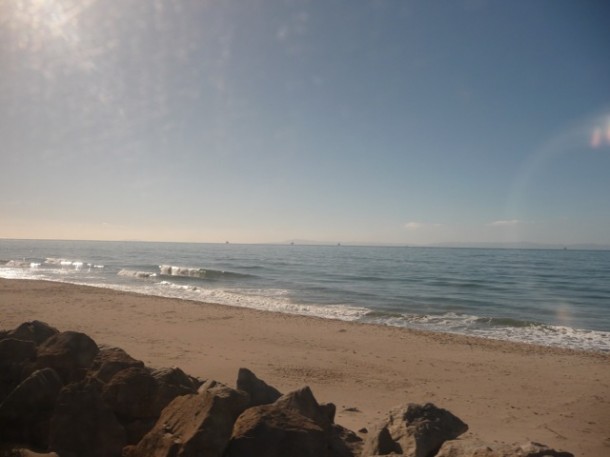 We arrived in LA Union Station pretty much on time, around 12:15 pm, and enjoyed about an hour there before jumping on the Metrolink for the 90 minute trip to San Bernardino and our final destination.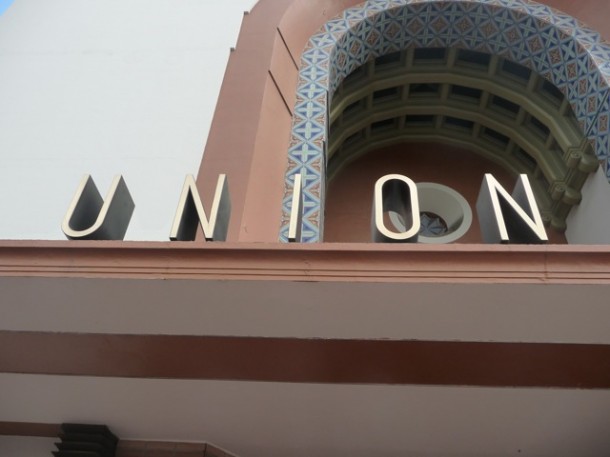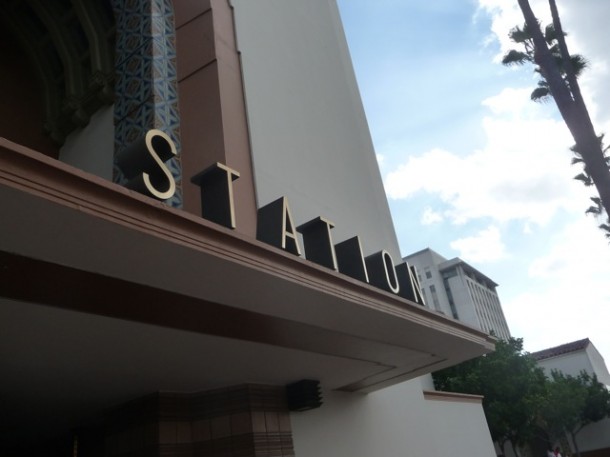 The second half of the trip was definitely better than the first, and I recommend that anyone wishing to take the Coast Starlight (or Starlate as a friend refers to it) stay away from winter travel and/or check the train status before you leave home.
Just for fun, I made a map of our trip also.

View 2010 Train Trip in a larger map